Exterior Painting in Albuquerque, NM
Learn More About Our Exterior Painting Services
Exterior painting is about more than just choosing a color that you like. A lot goes into making an educated decision about painting your Albuquerque, NM home. Fortunately, Lujan & Sons Construction is here to help you make the right choice. We understand all the ins and outs of professional exterior painting, and we'll make sure you take all the details into account before settling on a type and color of paint. Things to consider include siding material, climate, and the surrounding landscape. Allow us to help you paint your home exterior while covering all these bases! Learn more about our comprehensive services.
Our Exterior House Painting Process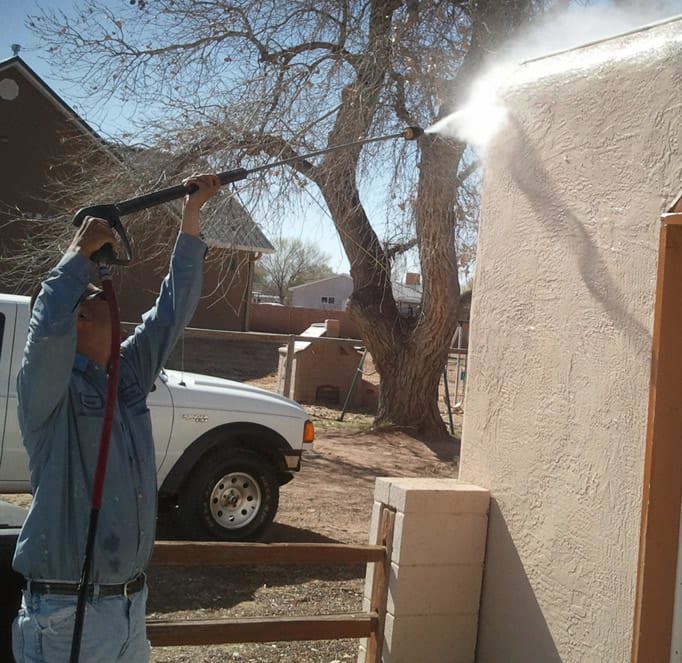 Painting exterior doors and siding is a multi-step process. Before we get started, we'll make sure you understand each phase of exterior painting. Our team wants to make sure all our customers are educated and know what to expect before we start your project. Typically, our process is as follows:
Cost Estimate:

We want our customers to be completely aware of the costs beforehand. Our team will never saddle you with surprise fees, and we're always here to answer your questions about pricing.

Façade Cleaning:

Before we break out the paint cans, we need to make sure the siding surface is spick and span. We'll thoroughly scrub the siding, remove loose paint, and fill in any gaps.

Painting:

Now it's time to get started! We'll prime all areas to be painted and then spread the paint evenly across the façade. Once we're finished, we'll perform a complete inspection to ensure we didn't miss a spot.

Cleanup:

Before we say goodbye for the day, our team will gather our supplies and clean up any debris left behind. We want to leave your property even better than we found it.
Benefits of Exterior Painting Services
Why spend the time and money on an exterior house painting service? A brand-new coat of paint has more benefits than you might think. First and foremost, repainting your home means increased curb appeal and more pride in your home. Other reasons to choose our exterior painting services to include:
Accentuate your home's best features
Protect your home from the elements
Discourage mold and mildew growth
Increased home value
Added durability for your siding
Why Albuquerque Residents Choose Us
Albuquerque residents have long chosen Lujan & Sons Construction for all their exterior painting needs. We appreciate each customer, and we do every in our power to earn your repeat business. Our company only offers the best materials on the market, and we stand by all our products and services. Although we've grown our catalog of services and number of employees, we've never lost that locally owned feel. We remain dedicated to creating a one-on-one relationship with each client.
Have a Question? Give Us a Call!
Is a new coat of exterior paint in the cards for you? If you need additional details, don't hesitate to contact Lujan & Sons Construction. We can offer guidance when it comes to exterior home painting colors, as well as choosing a product that will resist the intense New Mexico heat. Our team can address all your concerns and provide an accurate cost estimate before you commit to using our services. Get in touch with us today to learn more about your next exterior paint job.
Contact us today to get your project started.