Stucco Repair and Rebuild Services in Albuquerque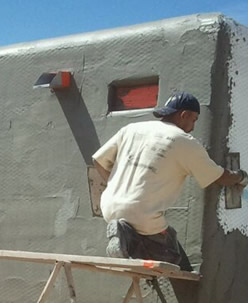 Cement stucco is the best value and the most efficient wall finish by far. It is tried and true with a proven long-term and well-documented history. Providing many years of near maintenance free variety of textures, beauty, durability, and fire-resistance properties, Portland cement stucco is the obvious choice for your home. It comes in a variety of stucco colors to enhance the look and feel of your home.
Beautiful Integral Stucco Colors
In its present form, traditional cement stucco uses iron oxide pigments to achieve its color. These inorganic minerals give the colors their rich and natural look. It should be understood that there are some dark colors that cannot be formulated from mineral colorants Integral colored exterior stucco s a mechanically blended compound of Portland cement, hydrated lime, sand aggregates, and iron oxide pigments. Since the stucco is integrally colored, it will never need to be painted.
Much like many natural landscapes, the traditional cement stucco will appear slightly different during each season and at alternate times of the day. With proper curing, age, end exposure t the elements, traditional Portland cement stucco may slightly darken over time enhancing the color. This is a unique characteristic of stucco not easily duplicated by other claddings.
Durable
When applied correctly, a cement stucco wall is a tough, fire-resistant material that will not fade or peel. It is impervious to rot, mildew and termites and with proper simple maintenance will last nearly a lifetime. Very minimal care will keep Portland cement stucco looking attractive for years and years. The simple act of washing with water once every 6 months will keep the surface clean and the colors bright.
Weather Resistive
During the construction process your home should have had a weather resistive barrier installed in accordance to the building code. The weather-resistive barrier and flashing is the moisture protection on the exterior walls, not the stucco. Stucco is a cladding that covers the weather-resistive barrier. Stucco is considered to be a drainable cladding since any moisture that does find its way behind the stucco will stop at the weather-resistive barrier and run down to a weep screed where it can drain from the wall, In addition, stucco is extremely breathable with a rating as high as 30 to 60 perms. Painting the stucco surface will reduce the perm rating drastically. Since stucco is vapor permeable, any moisture that gets in and does not drain, will in turn, escape from the system as it turns to vapor.
Protection
The 1/8" finish coat of traditional El Rey Stucco covers a minimum 1/2" to 3/4" cement stucco base. These multiple layers provide a tough, integrated shield for your home's exterior walls. The color through finish does not need to be repented after years of exposure to sun. Wind or cold compared to ongoing maintenance required of other non-current based exterior stucco finishes, as a dense current product, stucco resists noise from nearby streets and is a fire-resistant barrier for homes in the foothills providing up to a one-hour fire rating for your home's security.
Benefits of cement stucco:
Cement stucco siding is that it is a long term investment.
Cement stucco is durable and strong, and can last for a very long time.
Cement stucco is strong, making it more likely to resist earthquake damage.
Cement stucco is fire proof.
Synthetic Stucco
Synthetic stucco is a type of building exterior wall cladding system that provides exterior walls with an insulated finished surface and waterproofing in an integrated composite material system. It is typically attached to the outside face of exterior stucco wall with an adhesive (cementations or acrylic based) or mechanical fasteners. Adhesives are commonly used to attach EIFS to gypsum board, cement board, or concrete substrates. EIFS is attached with mechanical fasteners (specially designed for this application) when installed over sheet-good weather barriers such as are commonly used over wood sheathings. The supporting wall surface should be continuous (not "open framing") and flat.
Benefits of synthetic stucco:
Synthetic stucco is flexible, and very durable.
Synthetic stucco is a better insulator than traditional stucco siding.
Synthetic stucco also more flexible, allowing ornate keystones, cornerstones and other accents that traditional stucco previously could not hold.
Unlike poorly installed traditional stucco, synthetic stucco does not yellow or fade, which occasionally forces homeowners to paint over their stucco.
Our stucco services include:
Re-stucco
Parapet Repair, and Rebuild
Stucco Repair, And Blend
Installation
Interior Plaster
Italian and Venetian Plaster
New Construction (Three Coat System)
New Construction (Two Coat System)
El Rey Alegro Cement Coating
STO Elastomeric Coating
Stucco on Additions
Stucco Siding
Stucco Finishes
Painting Stucco
EIFS repair
Stucco Renovation
Expert stucco repair to safe guard your building's value and curb appeal.
Nothing ages a building's appearance like cracked stained, stained or peeling stucco. Stucco often deteriorates when water leaks in around non-vertical areas such as parapet caps, or at the roof, around windows and doors, or through the walls. Visible sings include cracks, delaminating of the
Stucco coating, flaking or peeling of the stucco itself.
No matter how challenging the stucco patch our stucco contractors have the right products to handle it because we use Sto. Sto has led the industry in exterior wall system and coatings for more than 40 years, and all their stucco products have been field-tested for reliability and quality.
Parapets and other non-vertical areas:
Some of the most problematic area occurs around non-vertical areas such as parapets caps or decorative shapes, where there is a tendency for water to collect and cause serious deterioration over time. Sto Flexyl is flexible waterproofing membrane that creates a watertight seal. It is coated with Sto Primer and then the same coating or finish used for the rest of the building.